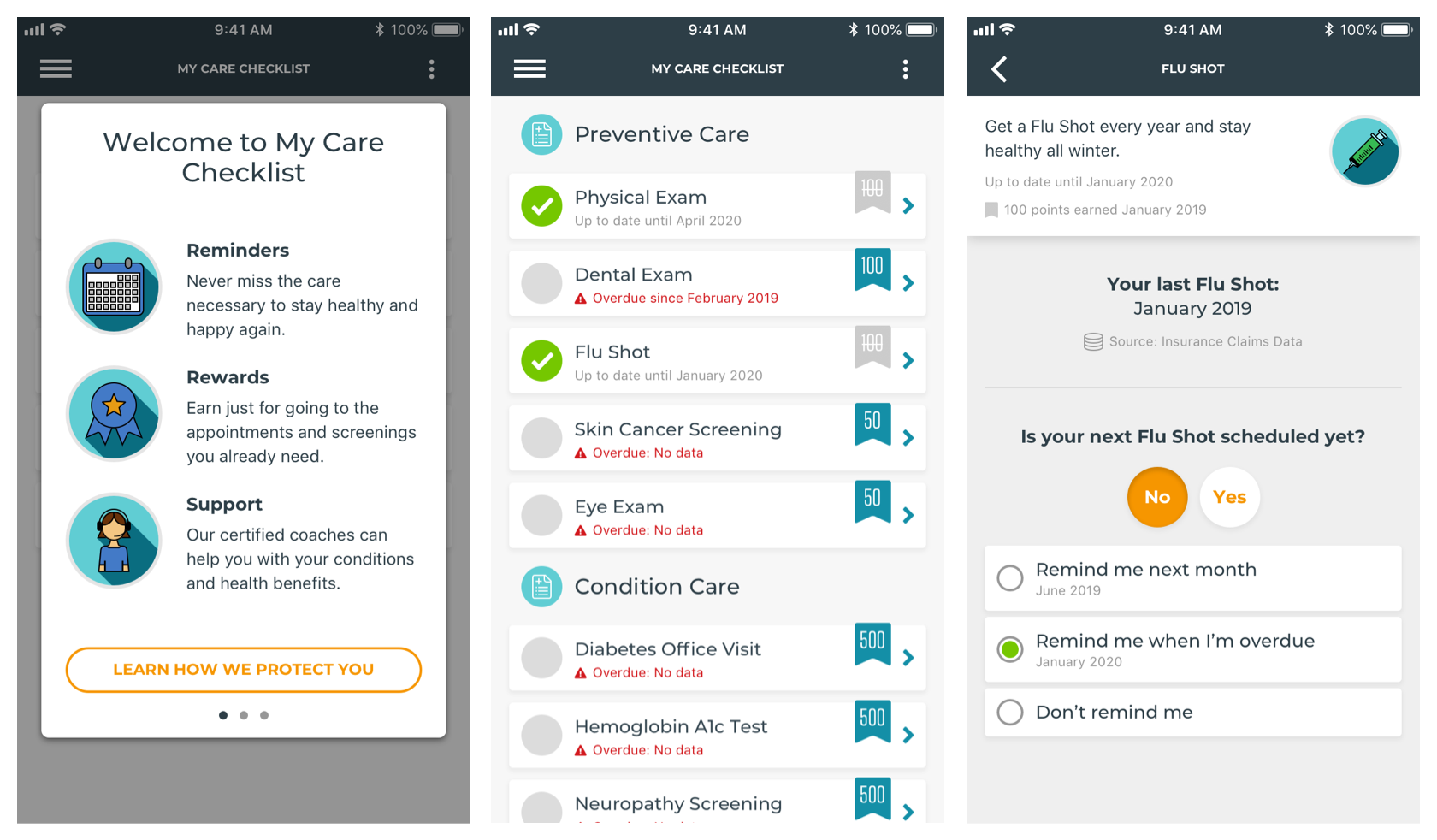 Background
Virgin Pulse is a workplace wellbeing platform that incentivizes employees to engage in healthy habits to improve their health outcomes and lower healthcare spend. While there I worked on the alpha version of the Care Checklist. The goal of the feature was seemingly simple: get users to keep up with the preventive and chronic care that would help them stay healthy. But this is healthcare, and nothing is simple...
Challenge 1: Knowing What Users Need To Do and Getting Them To Do It
Prior to this feature Virgin Pulse's platform was based on the premise that getting users to engage in daily healthy habits was an avenue towards longer-term health. But they aspired to move beyond personal fitness and towards healthcare.
The program was often purchased for client company employees alongside their insurance offerings. Through an acquisition Virgin Pulse became able to read insurance events for self-insured client companys that allowed the configuration. The question became what to do with that capability.
We decided to tackle something known as "gaps in care", ie people missing the regular care that helps them stay far ahead of eventual health problems. Things like annual physicals, flu shots and dental appointments are usually well covered by insurance, relatively low cost, and have the power to prevent future problems. And they're supposed to be habitual, which was the Virgin Pulse platform's secret sauce.
Solution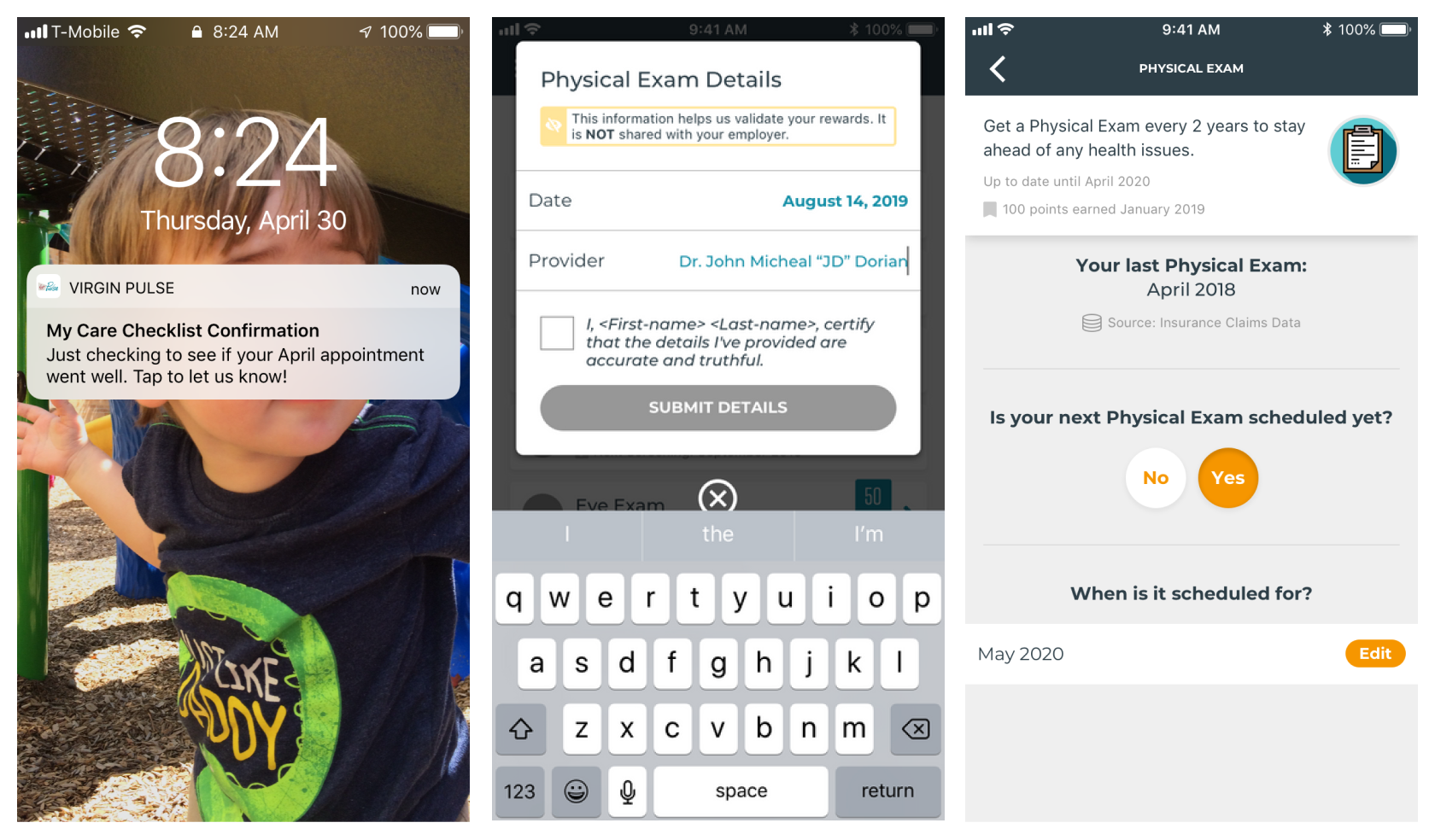 By using allowed insurance data we could identify if and when employees had engaged in regular annual preventive care and chronic condition care, create reminders for that care, surface the reminders at intervals appropriate to their insurance coverage, and reward them for following through using the existing program rewards structure.
Click here for the screening and rewards prototype.
Challenge 2: The Creepy Factor
One major concern was whether or not users would find the feature to be "creepy". All of a sudden they would be getting alerts about things they probably didn't think we should be able to know about. At the time we were designing this feature there had been many prominent data breaches and we worried the sensitivity of this information would be top of mind for users.
Solution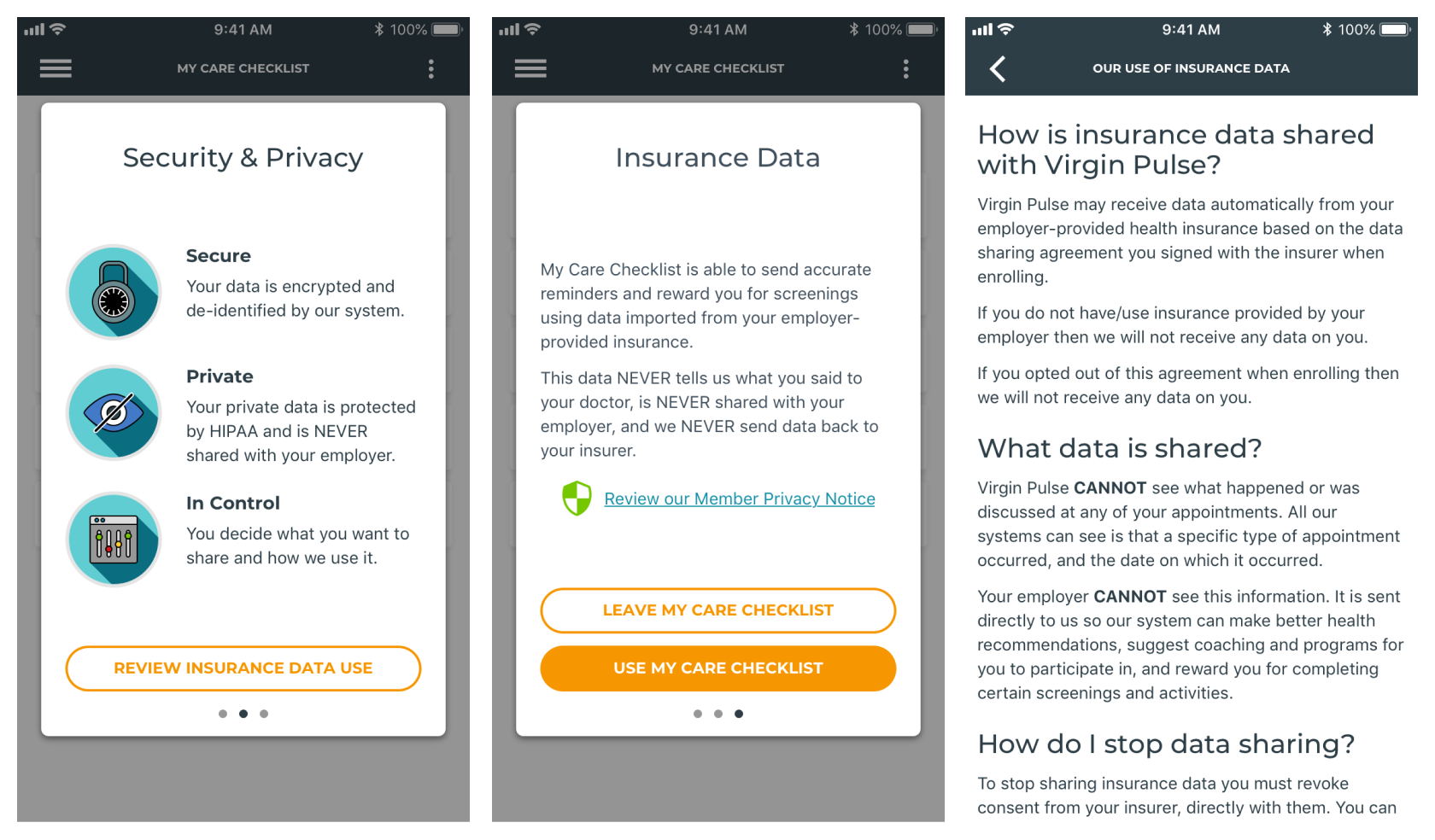 A series of user interviews showed us that while users had a general concern about security and their data being used against them, most had a positive reaction to being put in control of that data and consenting to how it would be used. We ended up designing the feature with an eye towards "privacy first", an approach I advocated to be rolled out across similar products as Virgin Pulse moved further towards healthcare.
When activated, the feature would not surface any data or knowledge of events to a user the first time. Instead it would explain the feature, our security approach, and their options. Users would be allowed to opt-in to the feature and explore their concerns about their data further. It was made clear to users that their employers could not see or monitor this information, and they could keep the feature off if they were concerned.
Click here for the feature intro and security prototype.
Final Thoughts
This project afforded me a fairly unique opportunity: to lead research, concepting and execution through every step as the primary responsible party. The feature was assumed to be "easy" when first started due to the data from the acquired company that would make it possible. I was largely left to my own devices to create it, and chose to do extensive user research, background research, and strategy definition rather than go along with the expectation that I would just "toss a few screens together". I also worked closely with the company's privacy lawyer to understand the legal ramifications of what we were proposing, and with security and privacy experts.
My research and presentations were key in revealing to the company that this was going to be a much bigger swing than ultimately estimated, and in moving resources to bear on the problem. My strategy work and user research also moved the product org towards considering the feature from a privacy-first standpoint, something I was particularly proud of. Unfortunately, I left the company before the feature was launched, but my understanding from speaking with people who were there after me was that other features were approached with the same concerns due to the research I had done.